---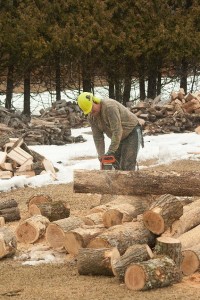 Fall Work Weekend 2024 – October 4-6
Register (Coming August 2024)
Registration Closes Friday September 27th
Typical Fall Work Weekend Schedule > 
LuWiSoMo Fall Work Weekend is a great volunteer opportunity for individuals and families.
Help with needed projects at camp and get to know other brothers and sisters in Christ who also love LuWiSoMo. Many volunteers return each Fall, enjoying this time with their "LuWiSoMo Family"!
Participants can arrive Friday evening beginning at 7:00 pm. Check In is 7:00-9:00 pm. No formal activities are planned Friday evening. It is a time for those staying the weekend to arrive, settle in, and relax.
We work all day Saturday on assigned work projects. Saturday evening includes worship and fellowship time. More work projects are scheduled Sunday morning after breakfast before we all depart at 11:00 am.
See Schedule >
Saturday only (no housing) participants are welcome. The Work Weekend Welcome and Work Project Assignment is at 7:45 am.
Housing and meals are provided free of charge. Housing is in the Retreat Center or Family Cabins. Meals include Saturday breakfast, lunch & dinner and Sunday breakfast.
The project list varies, but includes things such as clearing brush and other outdoor grounds maintenance projects, splitting and stacking firewood, putting equipment away and readying camp for winter, window washing, indoor cleaning projects, etc.
To those who've volunteered before and return every year, we can never thank you enough! If you're considering volunteering for the first time, Welcome! Participants share that they enjoy the atmosphere, fellowship, and even the work, returning home with the joy of time spent with new and old friends, and the satisfaction of a job well done!
Contact LuWiSoMo to learn more or click on "Register" at the top of this page to sign up.
Save