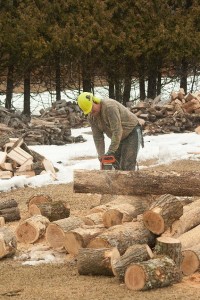 Work weekends are some of the most important weekends of the year for LuWiSoMo. Many volunteers are needed to help with a wide variety of projects during these busy weekends. Those that have been involved in the past, we can never thank you enough, and those considering volunteering for the first time, we welcome your assistance. All volunteers will have the opportunity to enjoy God's wonderful creation, the fellowship of working side by side with your brothers and sisters in Christ, and the satisfaction of a job well done.
Lodging will be provided on Friday and/or Saturday (if needed), meals on Saturday, and breakfast on Sunday.  Please prayerfully consider supporting the LuWiSoMo outdoor ministry through service.  You are welcome to come for a day or the whole weekend.
The project list is constantly being updated and there are always maintenance projects to be completed.  We would like to have as many people as possible assisting.  Past projects have included woodcutting, clearing brush, painting, equipment set-up and take down, interior cleaning, gardening, and much more.
For more details and to register, contact camp at 920-622-3350 or email us at [email protected]
Work Weekend dates:
April 28-30, 2017 (Click to register)
October 20-22, 2017 (Click to register)
Save