---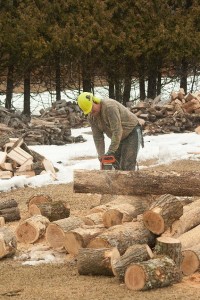 Work weekends are important for LuWiSoMo and many volunteers are needed to help with a wide variety of projects. We have jobs for all ages and abilities! Families, church and youth groups welcome!
To those who have volunteered before and you who return each Work Weekend, we can never thank you enough! To those considering volunteering for the first time, welcome!
You'll have the opportunity to enjoy God's wonderful creation, the fellowship of working side by side with your brothers and sisters in Christ, and satisfaction of a job well done.
Lodging and meals provided.  Please consider supporting LuWiSoMo through service. Come for the day or the whole weekend.
Our project list for each Work Weekend varies, but include things such as getting LuWiSoMo ready for summer or closing up for winter, indoor and outdoor cleaning projects, cutting, splitting and stacking firewood, and more.
Contact camp to learn more.
Are you a Thrivent Member? Contact us to see how you can help by sponsoring a Thrivent Action Team.
Upcoming Work Weekends
Due to COVID, unfortunately we're not able to hold our traditional larger gathering overnight version of Work Weekend this Spring. However, we can set up "Work Days" or "Work Projects" for individuals or small family groups to help with outdoor projects later in April or in May, once Spring weather arrives. Please contact us if you're interested and want to learn more. We pray will be back to our traditional version of Work Weekend in the Fall (see planned date below).
Fall 2021 – October 8-10, 2021
Save