Camp in the Woods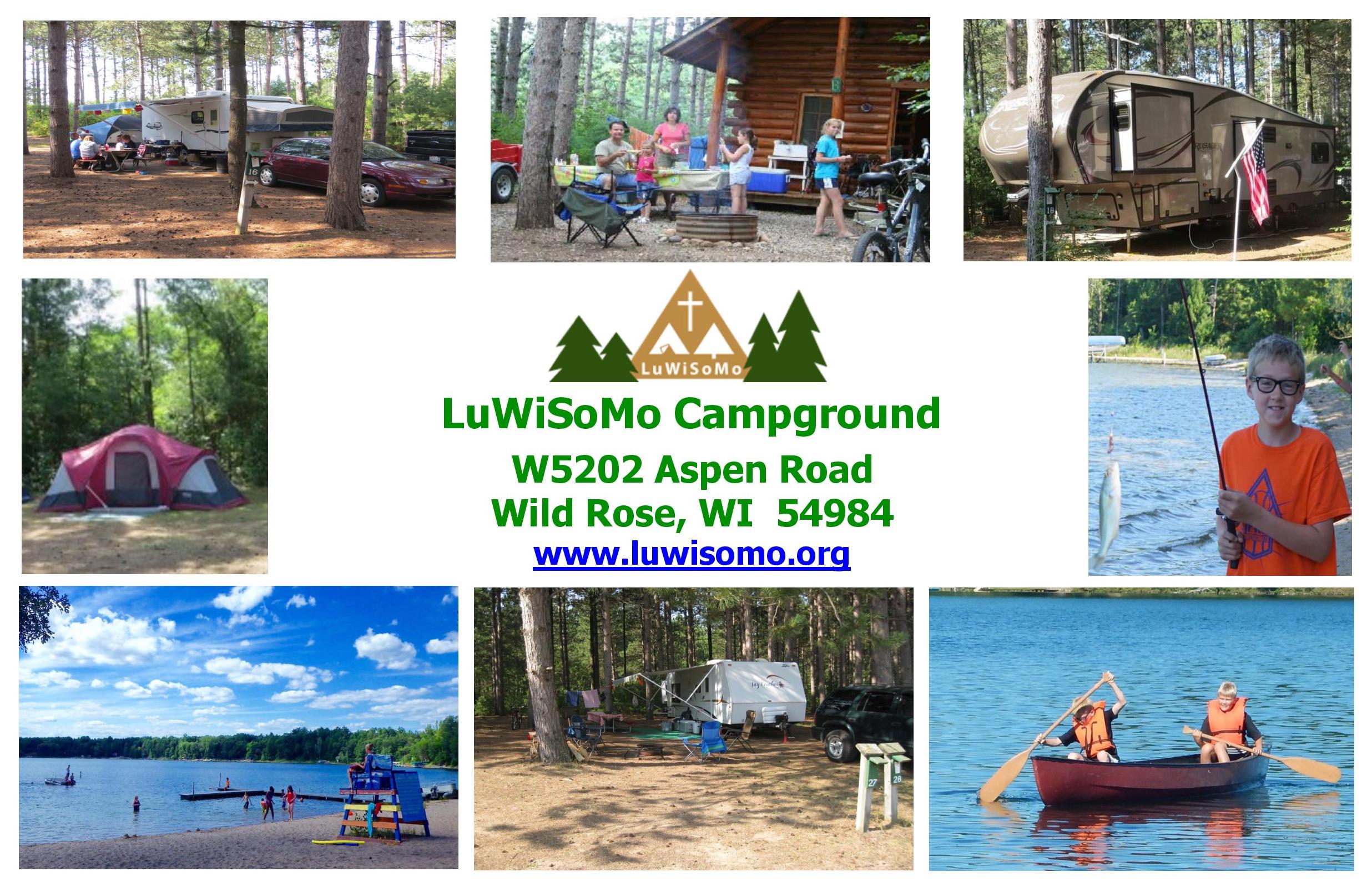 Open May 11 (Weather Permitting) – October 15, 2018
380 acres with Wooded Trails, Mini-Golf, Horseshoes, Playground, Volleyball, Playing Fields, 800 feet of frontage on beautiful Round Lake
 2 Clean Shower Houses with Flush Toilets  |  Free Laundry Facility  |  Ice, Snacks & Firewood Available for Purchase
Campsites include Picnic Table and Fire Ring
 Camp LuWiSoMo recreational & meeting facilities available to campground guests on a space-available basis
Camp LuWiSoMo is a quiet campground dedicated to providing faith-growing opportunities
for people of all ages,  in a Christ-centered outdoor ministry setting
---
2018 Rates
Full Water & Electric Campsites
Limit 6 Guests / 1 Camping Unit per Campsite
Sites 1-18, 20-38, 38A  |  30 amp
$40 per night
Light Electric Campsites
Limit 6 Guests / 1 Camping Unit per Campsite
Sites 39-43  |  15 amp
$35 per night
Primitive Campsites
Limit 6 Guests / 1 Camping Unit per Campsite
Sites 44-51, 54-94  |  No water or electric
$25 per night
Cabins
Limit 5 Guests per Cabin
Cabins A, B & C  |  Queen Bed, 3 Twin Mattresses in Loft, Microwave, Refrigerator, No Linens
$65 per night
Seasonal Campsite
Contact us for details


Clean-Up Fees
Clean-up fees are assessed if campsites or cabin are not left in the same condition as when you arrived, including clean-up of cigarette butts, food scraps, water ballon remnants, trash left at campsite or cabin, etc. Fee is $50 per hour, minimum charge $50.
---
Reservations
Reservations are taken on a first come basis. Deposit required to secure a reservation.
Deposit, Payment & Cancellation Policies
We are upgrading to a new online reservation system, so online reservations are not currently available. Contact us directly with your reservation request and we will assist you in making your reservation and processing your deposit payment. Thank you for your patience as we work to improve our services!

Printer-Friendly Mail-In Reservation Form – This is unavailable at the moment as part of the upgrade
Save
Save
Save
Save
Save
Save
Save
Save
Save
Save