---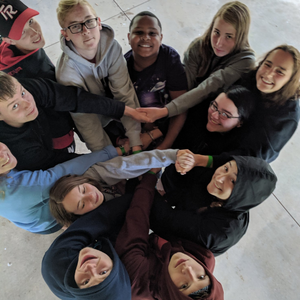 Sign up for High School Camp happening one week only – July 7-12, 2024.
This is a totally different 5-night camp only for teens currently in Grades 8-11, along with our great summer staff.
High schoolers, this is your week! Unplug from technology and stress, be encouraged by our incredible staff, build friendships, grow in your faith, and plug into some serious summer fun!
And then there's the new High School Camp team competition! Campers and summer staff will be split into teams for the week and compete in a variety of awesome events. These are not all athletic events. What are they? Attend to find out! Will your team take home the 2024 team prize?!
And don't forget all the other great LuWiSoMo fun such as nightly campfires, canoeing, kayaking, beach time, archery, hanging out together, and much more! Words don't do it justice. Don't miss our "New" High School Camp designed specifically for you!
Current 8th Graders
You can choose High School Camp or the Grades 5-8 Youth Camp.
Can CITs Attend?
If I'm a CIT this summer, can I also sign up to attend this awesome new High School Camp, you ask? Yes, you sure can! We've picked this week specifically because CITs and most of our summer staff won't be serving other Youth or Joy Hearts Camps.
What is a CIT?
High School students can also serve as Counselors in Training (CITs). CITs are a vital part of summer camp. Most share how life changing this experience is for them. Learn more about being a CIT >
Includes
Lodging in the Retreat Center (Air Conditioned)
14 Meals (Monday Breakfast – Friday Lunch)
Theme T-Shirt
Awesome Activities & Lots of Fun!
Schedule
Camp begins with check-in from 6:00 to 7:00 pm on Sunday in the Welcome Center and ends at 1:30 pm on Friday.
Cost
Register By March 31st (Save $50) – $515
Register After March 31st – $565
A $150 non-refundable deposit is required at registration.
Payment of the remaining balance is due by May 24, 2024.
Financial Support

Register
Print the Registration Form and Camper Health History Form. Complete and mail with a check for your deposit (or payment in full if you prefer) or scan and email if you are paying by credit or debit card.
Payment & Cancellation Policies
Deposit & Payment
A non-refundable deposit is required to register. Payment of the remaining balance is due by May 24, 2024, if not included at the time of registration. 
Cancellation
Deposits are non-refundable. No refunds will be granted after May 24, 2024. If a camper leaves early due to homesickness, disciplinary reasons, or parent request, no refund will be given.
Camper Expectations

It is our goal that everyone who attends Camp LuWiSoMo is encouraged and strengthened in their faith through authentic community, outstanding staff, experiential activities, and intentional faith building. To ensure a safe and positive Christian environment for every camper, Camp LuWiSoMo expects each camper's behavior, speech, and clothing are appropriate for the Christian atmosphere we are trying to model.
What To Bring

Download the "What To Bring & What Not To Bring" list 
Questions
We're here to help. If you have questions or need help, contact camp.