---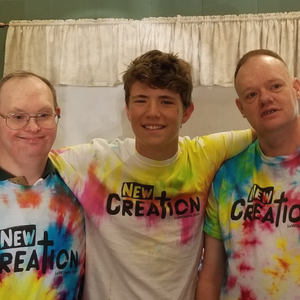 As a Counselor-In-Training (CIT) you spend one or two weeks volunteering at summer camp, serving alongside our summer camp counselors and staff. Experience the joys and hard work of camp ministry, while developing your leadership skills and growing in your faith.
You must currently be in High School (Grades 9-12) to apply to be a CIT.
CITs are required to attend a weekend of training, Friday-Sunday, June 17-19, 2022.
The schedule for which weeks CITs serve is done in June, so participants know when they will serve at that time. We do our best to accommodate scheduling requests.
Can CITs Also Attend The New High School Camp?
Yes, you sure can! We've picked this week specifically because CITs and most of our summer staff won't be serving other Youth or Joy Hearts Camps. Don't miss out on this great week designed specifically for you! Learn more about the new High School Camp >
Application
Step 1 – Apply
To apply, you need to complete the Application Form and provide the additional information requested on page 3 of the application. Note: This additional information includes two references (see application form for details) – this is the Reference Form you will need to give to your references.
Step 2 – Training Registration
If you are accepted to serve, then you will need to compete the Payment & Waivers Form for CIT Training and the Camper Health History Form.
Questions – FAQs
See the FAQs. If you have additional questions, please contact camp.
Training
Schedule
Training begins with check-in from 4:00 to 5:00 pm on Friday June 17th in the Welcome Center and ends at 11:00 am on Sunday.
Includes
Lodging in the Cabins, 5 Meals (Friday Dinner – Sunday Breakfast) & T-Shirt
Cost
$135 
Payment due by May 13, 2022. 
Cancellation
Deposits are non-refundable. No refunds will be granted after May 13, 2022. If a CIT leaves training due to disciplinary reasons or parent request, no refund will be given.
Anticipated COVID Protocols

As this is a changing situation it is too soon to be able to finalize protocols, but this is what is anticipated based on what is known at this time.
CDC, Federal, State and Local guidelines, recommendations, and mandates regarding COVID safety will be followed.
CITs are encouraged to be fully vaccinated and boosted per CDC guidelines, with proof of vaccinations provided as part of the registration materials. If a CIT is not or will not be fully vaccinated and boosted by the start of camp, proof of a negative COVID test just prior to arrival for each week of service will be required.
CITs will be required to sign a COVID self-screening & release form prior to each week of service that will be provided closer to the start of camp.