---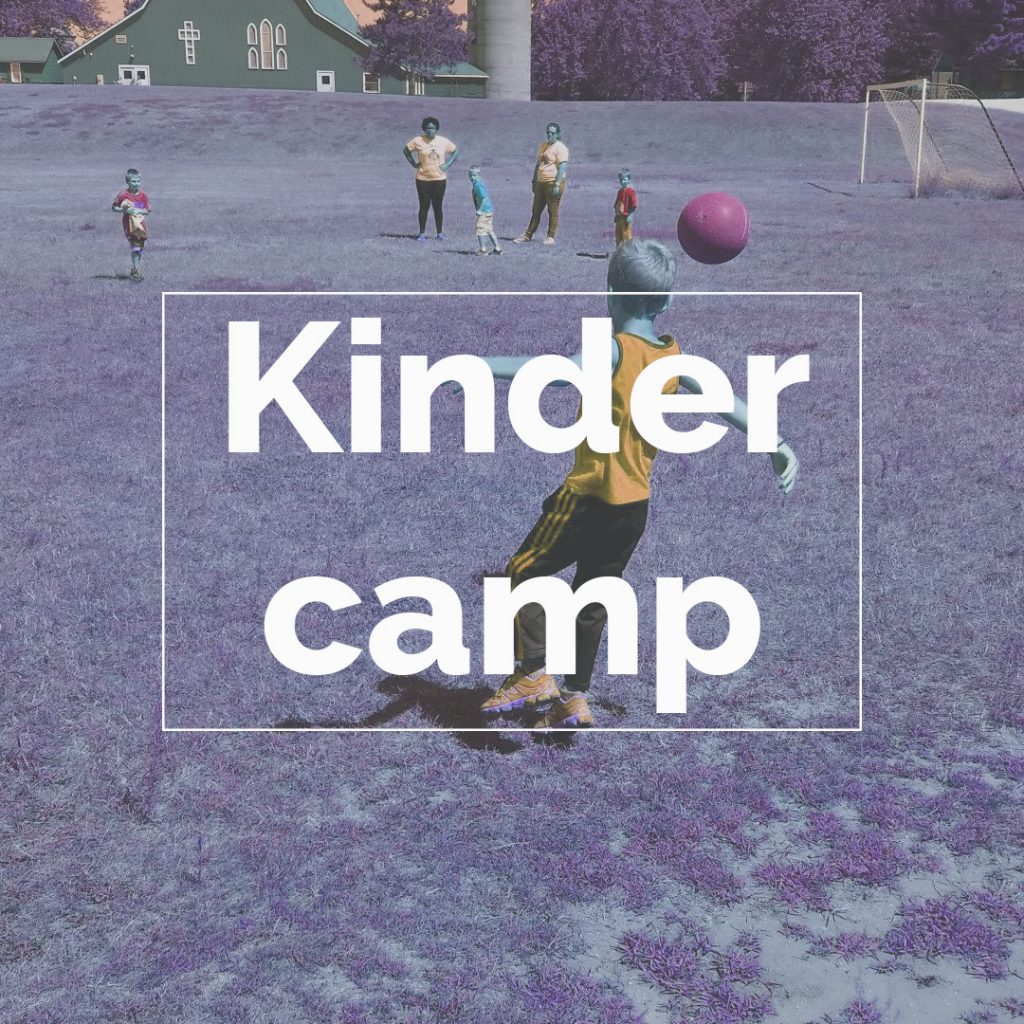 KinderCamp is for our youngest campers, Pre-Kindergarten – Grade 1, who prefer to spend the weekend with their parent, grandparent or guardian.  
It is intended as a special time to relax, bond with your child, enjoy the camp experience together and create special memories!
Activities specifically designed for these young campers are led by trained counselors to delight you and your child.

The registration fee includes one child and one adult, but an additional parent or child may be added. Each family is housed in a Retreat Center room with 2 sets of bunk beds (4 beds total).
2019 Dates
July 19-21 (Pre-Kindergarten – Grade 1*)
* All grade levels are based on current grade levels at the time of registration. For the well being of the program, campers, and staff, we do not make exceptions for camper grade.
Includes
Lodging in the Retreat Center
5 Meals (Friday Dinner -Sunday Breakfast)
Theme T-Shirt for each Camper (Child & Adult)
Awesome Activities, Lots of Fun & Special Memories!
Schedule
Camp begins with check-in from 5:00 to 6:00 pm Friday in the Welcome Center and ends at 11:00 am Sunday following a closing program in the Chapel. 
Cost
$190 (One Child & One Adult)
Additional Parent or Child @ $90

A $75 non-refundable deposit is required at registration.
Payment of the remaining balance is due by May 31, 2019. 
Register
We plan to open registration for Summer 2019 on February 1, 2019. Links to forms and online registration will be live when registration opens.
Mail / Email
Print the Registration Form and Camper Health History Form. Complete and mail with a check for your deposit (or payment in full if you prefer) * or scan and email if you are paying by credit or debit card.
* Deposit required to register. Balance due by May 31, 2019, if not included with registration. 

UltraCamp
Register online through UltraCamp  (Convenience Fee Added) *
* Registration using UltraCamp requires that you set up an UltraCamp account and also includes an added convenience fee of approximately 7%. To avoid this fee, use Mail / Email option above. Deposit required to register. Balance due by May 31, 2019, if not included with registration. 

Questions
We're here to help. If you have questions or need help, contact camp.
Payment & Cancellation Policies
Deposit & Payment
A non-refundable deposit is required to register. Payment of the remaining balance is due by May 31, 2019, if not included at the time of registration. 
Cancellation
Deposits are non-refundable. No refunds will be granted after May 31, 2019 except in cases of illness or injury (with a doctor's note) or family emergencies. A pro-rated portion of the registration fee minus the deposit will be refunded if a camper is sent home due to illness or injury. Refunds will not be made for a remaining period of two days or less. If a camper leaves early due to homesickness, disciplinary reasons, or parent request, no refund will be given. All refund requests must be in writing.
Camper Expectations

It is our goal that everyone who attends Camp LuWiSoMo is encouraged and strengthened in their faith through authentic community, outstanding staff, experiential activities, and intentional faith building. To ensure a safe and positive Christian environment for every camper, Camp LuWiSoMo expects each camper's behavior, speech, and clothing are appropriate for the Christian atmosphere we are trying to model.
What To Bring

Download the "What To Bring & What Not To Bring" list