---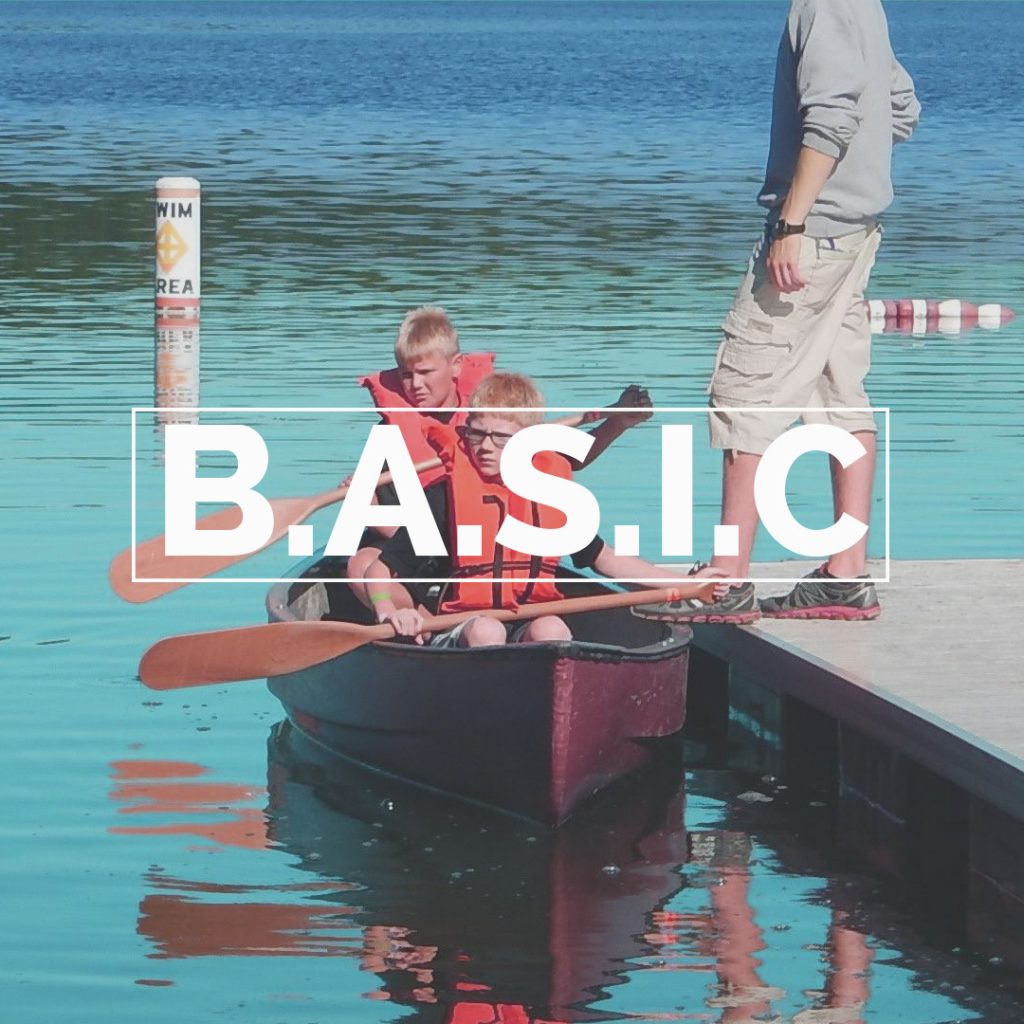 See Summer 2021 COVID Update >
Brothers And Sisters In Christ (B.A.S.I.C.) Summer Youth Camps are 5 night camps for campers from Grades 2-8. Age groups for each week vary – see schedule.  
Campers build lasting friendships and develop skills and knowledge they can use for the rest of their lives, through activities designed specifically for them, including archery, swimming, canoeing, fishing, hiking, camping, nature skills, arts & crafts, horseback riding, orienteering, team-building, crazy fun games and even some free time! Each day includes faith building experiences, devotions and interactive worship, and ends with a devotion and singing around the campfire.
2021 Dates
See Summer 2021 COVID Update >
Week 1 – June 27-July 2 (Grades 3-6)
Week 2 – July 18-23 (Grades 2-5)
Week 3 – August 1-6 (Grades 4-7)
Week 4 – August 8-13 (Grades 5-8)
All grade levels are based on current grade levels at the time of registration. For the well being of the program, campers, and staff, we do not make exceptions for camper grade.
Includes
Lodging in the Cabins
14 Meals (Monday Breakfast – Friday Lunch)
Theme T-Shirt
Awesome Activities & Lots of Fun!
Schedule
Camp begins with check-in from 6:00 to 7:00 pm on Sunday in the Welcome Center and ends at 2:00 pm on Friday.
Cost
$405
A $150 non-refundable deposit is required at registration.
Payment of the remaining balance is due by May 28, 2021. 
Horse Ride Option
Enjoy a horse ride during your week at camp! This popular option is open to all campers. Cost $30.
Additional Experience Options
Campers can also add one of the following options to their camp experience. Campers spend 2 hours each morning, Monday – Thursday, in their selected experience.
Horse Camp (Available All Weeks) – $75 (Space Limited)
Horse Camp is an option for those who want to learn the basics of how to care for horses and spend some fun time at the stables and in the saddle. Campers learn about horses and caring for them, help our wrangler team groom and tack horses and learn about riding. Once chores are done, they hit the trail. If you select this option, do not select the Horse Ride Option, since that is already part of Horse Camp.
Guitar Camp (Availability Week 3) – $50 (Space Limited)
Guitar camp is for campers who have the desire to play but don't know how. You will learn strum patterns, chords, and all your favorite camp songs, along with the opportunity to play during Chapel and campfires. Campers need to bring their own acoustic guitar.
First Aid & CPR Certification Camp (Available Week 4) – $75 (Space Limited)
Have fun and earn your first aid and CPR / AED certification. Cost includes certification fee.
Register
See Summer 2021 COVID Update >
Print the Registration Form and Camper Health History Form. Complete and mail with a check for your deposit (or payment in full if you prefer) * or scan and email if you are paying by credit or debit card.
* Deposit required to register. Balance due by May 28 2021, if not included with registration. 
Payment & Cancellation Policies
Deposit & Payment
A non-refundable deposit is required to register. Payment of the remaining balance is due by May 28, 2021, if not included at the time of registration. 
Cancellation
Deposits are non-refundable. No refunds will be granted after May 28, 2021. If a camper leaves early due to homesickness, disciplinary reasons, or parent request, no refund will be given.
Camper Expectations

It is our goal that everyone who attends Camp LuWiSoMo is encouraged and strengthened in their faith through authentic community, outstanding staff, experiential activities, and intentional faith building. To ensure a safe and positive Christian environment for every camper, Camp LuWiSoMo expects each camper's behavior, speech, and clothing are appropriate for the Christian atmosphere we are trying to model.
What To Bring

Download the "What To Bring & What Not To Bring" list 
Questions
We're here to help. If you have questions or need help, contact camp.
Save