LuWiSoMo Riding Stables
        Do you love horses? At Camp LuWiSoMo, we love our horses! Our horses are of different breeds, colors, ages, and backgrounds, but they all have one trait in common — they all love making people smile!   Our horses enable youth campers, campers with developmental disabilities, scouts, campground guests, and visitors to experience trail rides, lessons, horsemanship camps, and merit badges. LuWiSoMo Stables are also open to the public, so these horses have the chance to make you smile too!
If you love horses, you probably already know that caring for a horse is very expensive! Our horses call the LuWiSoMo Stables their home all year-round. Although the horses may not be used as often during the winter months, they still require the following: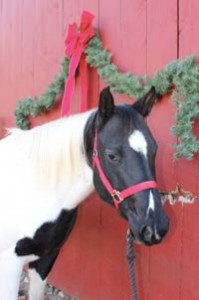 Daily Hay and Grain Rations
Dietary Supplements
Annual Vaccinations
Regular and Emergency Veterinary Services
Professional Farrier Services
Riding Equipment Repair and Replacement
In order to continue bringing horses and horse-lovers together at reasonable rates, we are offering you the chance to sponsor a horse. Through our Sponsor-a-Horse Program, you can make a monthly donation that will help pay for these year-round costs.
When you sponsor a horse, you will receive a sponsorship certificate, a 4×6 picture of your horse, a plush horse gift, quarterly updates, letters from campers, and website recognition. Sponsorships also make great gifts for the other horse-lovers in your life!
Click on Meet the Horses to Sponsor a horse now!
Please note that all sponsorships are considered donations. LuWiSoMo Stables is a division of Camp LuWiSoMo, Inc., a registered 501(c)3 organization; as such, your donations are tax-exempt. You will receive a receipt to that effect in January of the year following your donation.This sponsorship program does not entitle sponsor(s) to ownership, exclusive, or confidential privileges in any way to the sponsored animal or Camp LuWiSoMo, Inc. property. There may be more than one sponsor per horse.
***LuWiSoMo is dedicated to providing faith-growing opportunities in a Christ-centered outdoor ministry setting for all ages to refresh the whole person through the blessings of people, facilities, and God's Word.***
Save
Save