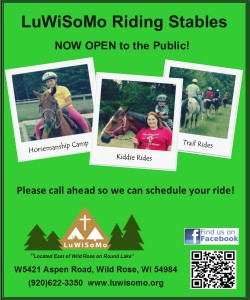 All horse rides are dependent on weather & trail conditions!
At the LuWiSoMo Stables we offer a variety of programs and rides.  
Please note, all riders need closed-toed shoes, long pants, and a signed horse waiver.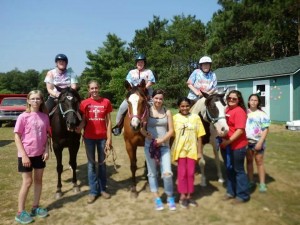 Public
Public rides are typically available on weekends and some evenings.   Please call prior to arriving to check for availability.  Contact information is found at the bottom of this page.
Ride Options:
$25 – Trail Ride: Take a guided 45-minute walking horseback ride through the wooded trails at Camp LuWiSoMo. (For ages 10 and older) 

$15 – Trail Ride:  Take a guided 20-minute walking horseback ride through the wooded trails at Camp LuWiSoMo. (For ages 10 and older)

$10 – Kiddie Mini Trail Ride:  This 15-minute horseback ride through wooded trails is geared more for youth who have little experience with horses or are too young for a trail ride.  Each horse is led by one of our wranglers.  These hand-held rides are for ages 2-9.  
We can also assist you in putting together a private event just for your group.  Birthday Parties, Corporate Team Building, and Gift Certificates are all possible. Give us a call and see if we can put something special together for you!
We also offer riding lessons.  Call camp for details. (920.622.3350)
Youth Campers
One option is Horsemanship Camp, which is geared toward those who want to learn the basics of how to care for horses and spend some fun time in the saddle. The camper will "adopt" a horse for the week. Under the supervision of the staff, it will be the camper's responsibility to bring in, groom, and tack their horse before riding each day. Once chores are done, it will be time to hit the trail where the stables staff will be there to guide and answer questions. On the trail we will maneuver around obstacles, improving control and management of the horse.  The cost of Horsemanship camp is in addition to the cost of youth camp.

Youth campers who are not taking Horsemanship Camp may sign up for horse rides.  The cost is $25 for a 45-minute ride if they are registered for camp.  We recommend adding your horse ride when you register for camp. You may be able to add a ride on the day you sign in to camp, but since horses are limited there may not be a ride may not be available at that late date.

All Joyful Hearts Program campers have an optional  guided horse ride included in their registration.
Scouts
Earn your Boy Scout or Girl Scout merit badges in horsemanship by spending eight hours with our horses learning to ride, feed, groom, and take care of horses.  Cost: $65.  Prerequisites are required; call for details!
Contact Information
For Public Rides or Merit Badges, call camp at 

 

920.622.3350

For information or details on Horsemanship Camp or Youth Camp rides, call the main office between 9:00 am and 4:30 pm. 

 

920.622.3350
Documents
You may download the horse waiver here or fill it out at the stables:
---
For directions and map to LuWiSoMo Horse Stables, Please click Here.
---
Save
Save