---
Attention Crafty Ladies – These Weekends Are Just For You!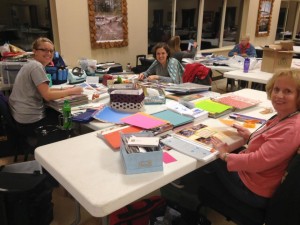 Join the party! Spend a whole weekend working on your favorite craft projects with no interruptions for cooking, cleaning or anything else! Enjoy the beautiful surroundings at Camp LuWiSoMo, large individual work spaces that remain undisturbed for the weekend, five meal, great camaraderie and lots of fun! 
Choose between creating cards and gifts using stamps, assorted papers and trims; preserving memories by making scrapbooks; quilting; knitting; or crocheting. Our retreat  leader will lead hands-on workshops throughout the weekend, including Creative Quick Scrapbook kits, cards and stamping, and Make-and-Take projects.  Workshop supplies will be provided; additional cash and carry supplies, embellishments, papers, stamps, inks and adhesives will be available for purchase.

Details
Arrival & sign-in begins at 4:00 pm Friday afternoon; check-out is 11:30 am Sunday morning.  When you arrive, you will be given table space to call your own for the entire retreat.
Lodging is dormitory-style (restroom & shower facilities centrally located) in the attached Krueger Center.  Each rooms holds 2 twin beds, set of bunk beds, desk, and closet space.
Meals include Friday dinner, Saturday breakfast lunch and dinner Saturday and Sunday breakfast.  Coffee and tea are available throughout your stay, and soda may be purchased.  A refrigerator is also available for your snacks, fruit, yogurt, or other beverages.
2018 Craft Retreat Dates
Coming Soon
Space limited. Advance Registration require, including nonrefundable deposit.
Save