Come Camp in the Woods!



380 acres include
Wooded Trails, Mini-golf, Horseshoes, Playground, Volleyball, Playing Fields,
800-ft. frontage on beautiful Round Lake, and more!
2 CLEAN Shower Houses with flush toilets.  FREE Laundry Facility!  Camp Store & Firewood available.
Separate dock for YOUR boat!
Come to LuWiSoMo Campground!
Closing October 16, 2016
Open May 12, 2017 (weather permitting)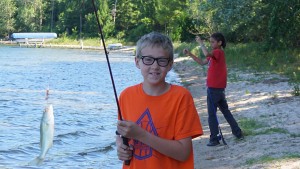 ---
LuWiSoMo Campground — the Campground with a Cause!
LuWiSoMo Campground is a quiet, nature-based public campground on the Camp LuWiSoMo property; funds generated from the campground help to offset the expenses of our ministry.  When you camp here, you are helping us offer a Christian Youth Camp, a Special Needs Camp, Retreats for groups of all ages, Outdoor Education Programs, and much more!  Mission Statement: Camp LuWiSoMo is dedicated to providing faith-growing opportunities, in a Christ-centered outdoor ministry setting, for people of all ages to refresh the whole person through the blessings of people, facilities, and God's Word.
---
Primitive tent sites:                   $15/nt, F-Su;   $10/nt, M-Th
Light Electric(15 amp) only:       $30/nt, F-Su;   $25/nt, M-Th
Full Electric(30 amp)+Water:    $35/nt, F-Su;   $30/nt, M-Th
5-person Cabins:                      $55/nt, F-Su;   $50/nt, M-Th                                      
(Queen bed, 3 twin mattresses in loft, microwave & refrigerator; no linens)  
Seasonal Sites Available — $1700/May-Oct; $300/Winter Storage


---
Or contact Don Herried at 608-372-5268 or
click on printer-friendly Reservation Form for a printable, mail-in form.
---
12-person HEATED/AIR-CONDITIONED LOG CABINS are available all week on main campus from mid-August to June 1, and on weekends from June 1 – mid-August.

Call (920) 622-3350 to reserve for your group!
Each campsite includes a picnic table and fire ring.
All Camp LuWiSoMo recreational and meeting facilities are available to campground guests on a space-available basis.
Campground Map & Rules, Please click Here.        For directions and map to LuWiSoMo Campground, Please click Here.
Save
Save
Save
Save
Save
Save
Save
Save
Save